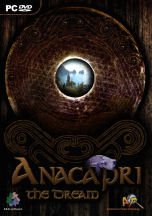 by Silvio and Gey Savarese (developers of "A Quiet Weekend in Capri")

The Story

The story of "Anacapri: the Dream" is an intermix of ancient mythology, literature, science fiction, and freudian studies on dreams. You are invited to Anacapri to accomplish a very difficult task as an expert of the ancient civilizations.

All villagers are leaving the island under the threat of the malicious power of the forgotten Dark Obsidian Disk. "Find the Dark Obsidian Disk before it's too late!", everyone pleads to you. But what is the Dark Obsidian Disk? Why is it so dangerous? Quickly you will find out that what you think as reality is in fact an illusion - the truth is far beyond what you have imagined. And most importantly, that your destiny and the one of Anacapri are dreadfully linked together....

Features

Anacapri: the Dream, is set in the upper region of the island of Capri - Anacapri. It will feature several thousands of breath-taking photographs, vivid dialogues with real-life characters, 180-degree panoramas as well as captivating animations.
New Screenshots

These screenshots belong to the northern region of Anacapri. A long and dangerous trail unfolds along the rocky cliff right under the mountain and connects three ancient fortifications called the Three Forts. Here a bloody war was fought two hundred years ago. Intermingled with these unforgettable events, there lies the legend of the Obsidian disk. Watch out your back! The ghost of an old British soldier may appear.... But don't be afraid, he may not be that dangerous. If you succeed in earning his trust, he might even help you out. Hurry up! The secret hidden in the
Three Forts is waiting for you to unravel it...
" These screenshots belong to a remote and forbidden area of Anacapri called Cetrella. In Cetrella the gamer explores several mysterious locales in order to find the Brown Monk and more important cues. But the journey is still long and full of dangers, and the enigma of the Black Obsidian far from being unraveled... "

---

copyright © 2007 GameBoomers