Posted by: Becky
A First Look at The Book of Unwritten Tales by Gremlin -
08/21/11
03:25 PM
The Book of Unwritten Tales by gremlin
What do we have here?
Back in May 2010 I saw this description of
The Book of Unwritten Tales
: "In a world torn by war, the aged gremlin archaeologist Mortimer McGuffin harbours the dark secret of a powerful artifact. Whoever calls this artefact its own, will determine the fate of the world. While the Army of Shadows sends out its best and most devious agents to discover the secret, the Alliance's three heroes find themselves involuntarily drawn into the crisis..."
What do you think? Should a reviewer who goes by the name of Gremlin consider this a shoo-in for a game worthy of review? I did, and then I was really disappointed to hear that it was dropped by the publisher. However the game is back on the release schedule for this Autumn, and that makes me happy. Now I've got my hands on a preview copy of the first two chapters of the game; there will be five in the final release, so it's time for a GameBoomers First Look.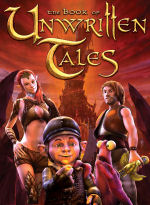 What we have here is really an English translation of a successful German title of the same name that was released in 2009. However, my German skills are not the greatest, so it seems I was fated to wait for the English version. It's just a shame it's taken so long to happen.
The game is a polished point-n-click adventure game, played in the third person (with rare exceptions for a couple of puzzles). The visual style is very reminiscent of The Whispered World, but with Heath Robinson and World of Warcraft-like influences.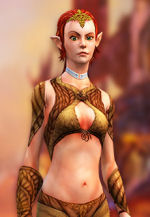 Notes from a short journey
There are four playable characters, but I was only able to play two in the preview, Ivo (an elf) and Wilbur (a gnome). I understand that the other two are a human, and an un-named pink furry thing!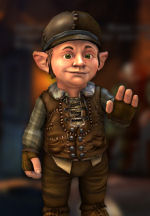 One of my favourite features of the game is the brilliant voice acting. Translated games often suffer from odd turns of phrase that work in the original, but fall strangely upon English ears.
The Book of Unwritten Tales
does not suffer from this at all. The dialogue is excellent, the voice actors give it plenty of shape and style, and the accents are very authentic. Many games have Scottish or Welsh characters (actually, Welsh characters are pretty rare in games) whose accents are, let us say, weak, at best! And deeply flawed in others. (If you think Groundskeeper Willy has an accurate Scottish accent, then you'll have no idea what I'll rattling on about.) However, the English, Welsh and Scottish accents are all genuine in this game - Wilbur has a lovely soft, lilting Welsh accent, for example. It's really nice to see people getting this right. I just hope the Spanish accent of the Rat King is as accurate as the rest.
The plot of the game seems to be the well-tried standard of, "the village 'nobody' has to fetch the fantastical magic device to save the world." Of course, every 'nobody' has to become a hero in a fantasy adventure, and that's our Wilbur Weathervane. Running in parallel, at least to begin with, is Ivo (a young-looking elf). She's on the same quest as Wilbur but from a different starting point, so the plot spotters amongst you will just be trying to work out at which point they meet and join forces.
Story elements and puzzles are in the vein of fetch-and-carry quests, investigation and persuasion, and a little bit of judicious deception. However, there's no violence in the first two chapters, and only one death, a Death and a resurrection. None of the puzzles are particularly difficult, and I was able to complete the first two chapters in under seven hours. Mind you, hitting the space bar shows all the hotspots in a scene at any time, which is extraordinarily helpful in avoiding getting stuck.
The only glitch I would bring up is that there are occasions when Wilbur and Ivo sort of dance around one another when you're swapping from using one of them to using the other.
Jumping to conclusions
First of all, I've got to say that I'm definitely putting
The Book of Unwritten Tales
on my wish list for Christmas. I thoroughly enjoyed the humour, the story and the presentation. There were no bugs, or dead-ends, mazes, sound puzzles, and only one puzzle that required more than the usual level of point-n-click coordination (and if you can stir with your mouse, you'll be fine).
If the rest of
The Book of Unwritten Tales
turns out to be as good as the first two chapters, I think we've got a potential A grade game.
What do you need to play it?
Minimum system requirements:
Windows XP SP 3 / Vista / Windows 7
Pentium IV 2 GHz / Athlon 2.4 GHz (3 GHz CPU recommended)
1 GB RAM (Windows XP) | 2 GB RAM (Vista / Windows 7) (4GB recommended)
6 GB free hard disc space
Direct-X 9c compliant video card with
128 MB RAM, PixelShader 2.0 (256MB recommended)
(I used a home built 64-bit Vista Home Premium SP1 PC running on an AMD Athlon 64 X2 Dual 5200+, with 6 GB RAM, and a Sapphire Radeon HD4670 512MB video card with mother-board sound card)
Would you like to learn more about The Book of Unwritten Tales? Read the full review by gremlin.