Posted by:

MaG
First Look - The Night of the Rabbit by gremlin -
05/19/13
01:13 PM
First Look - The Night of the Rabbit by gremlin
The Night of the Rabbit
is a soon-to-be-released game from Daedalic Entertainment; they of Deponia, Edna & Harvey, The Whispered World, and others. It is a point-and-click adventure set in a children's storybook-style hand-drawn world, where Jeremiah Hazelnut dreams of becoming a magician -- but he only has two more days of the school holidays left in which to achieve this goal.
Your task is to explore the world of Mousewood (once you've discovered how to reach it), and to learn the skills required to become a magician and a treewalker.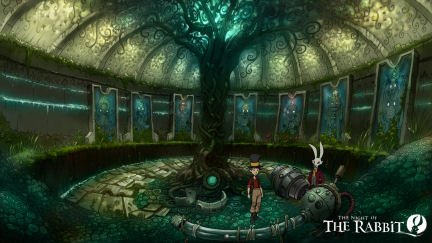 There is much to explore, and plenty of characters with whom to interact. The game is pretty heavy on dialogue, though there were not a huge number of dialog choices in the preview I played. You can click through conversations, which is just as well as some of them are repeated more than once.
The developers have clearly played other adventure games where navigation is a nightmare of long waits whilst the main character walks from place to place. Although Jerry does walk fairly slowly
within
scenes, you can double click on an exit at any time, to skip that.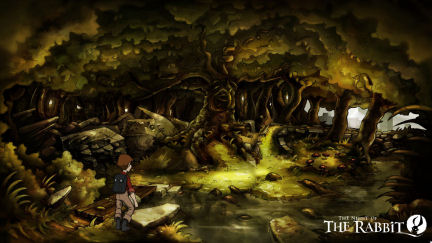 Controls in the game are simple - it's entirely mouse-driven. Even your inventory is accessed with a short up or down move on the mouse-wheel (assuming you have one, the 'I' key works if you do not). Inventory items can be combined; I always like this in an adventure game as it enhances the feel of creativity when solving puzzles that goes beyond the 'find the key; use the key' model.
There is a hot-spot finder which fits in with the story, but you don't have it to begin with, so the early part of the game is a bit trickier to get started if you struggle with finding things. Similarly, there's a help/hints system. But again, I didn't find this of much help during the preview. Maybe it kicks in better as the story moves on.
Music and ambient sounds abound in this game, and all the dialogues are fully voiced. This gives a rich experience of the world of Mousewood, and I look forward to seeing how much further this goes.
Jumping to Conclusions?
The overall feel of
The Night of the Rabbit
is very like
The Whispered World
. This is a good thing - a rich world, with plenty to see and do, decent puzzles, cute characters, and the preview gave strong hints of collectibles along the way. Since this is a Steam game, there are, of course, achievements to be collected too, though the preview only unlocked one.
The Night of the Rabbit
is being developed by Daedelic Entertainment and is scheduled to release worldwide on May 29, 2013 for PC (XP, Vista, 7, 8) and Mac OS X 10.7 (Lion).