Posted by:

MaG
A First Look at A Golden Wake -- by flotsam -
08/14/14
02:40 PM
A Golden Wake
Wadjet Eye/Grundislav Games
"The Roaring Twenties: a bygone era of glitz, glamour, and promise. Nowhere is this more apparent than Coral Gables, Florida. The real estate market is booming and even an ordinary guy like Alfie Banks has a chance to strike it rich.

But with the mob on his back, the Great Depression on the horizon, and the Sunshine State's idyllic waterfront only a hurricane away from total devastation, Alfie finds much more than he bargained for.

Based on actual events and featuring real life locations and historical figures, you must guide Alfie on his journey to reach the top of the real estate game as he deals with shady salesmen, cutthroat bootleggers, corrupt politicians, and much more, all while swept up in the events surrounding the inception of Coral Gables, The City Beautiful".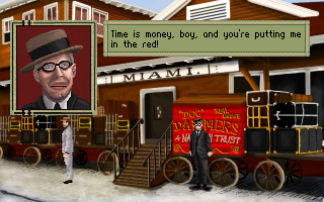 So says the Wadjet website, and who can't resist being a would be real estate mogul.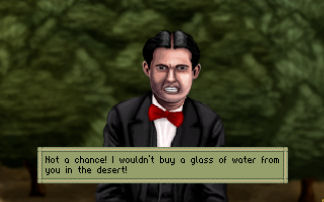 I did some googling and the game springs from the developer/maker of the Ben Jordan series of freeware games, Francisco Gonzalez. Mr Gonzalez is a Coral Gables (or thereabouts) local, who clearly has at least two affections, namely his city and old school point and click adventure games.
Actually, when does one stop saying old school, when there are so many new examples of this style?
Getting back to the game, while events and figures might be real, Alfie is not one of those. A top salesman in New York, Alfie decides to pack up and head south, for reasons you can find out for yourself, to perhaps take advantage of a soon to be land boom.
The parts available for this first look did a nice job of setting up the feel and the vibe, and establishing the nature of Miami in the 1920s. The puzzles were well integrated into what was being established, not tacked on, and again helped to draw you into the game world – Alfie is a salesman after all, so selling houses could hardly be absent. Controls were all simple, familiar to any point and click player, and easily picked up by any newbies.
I didn't play the Ben Jordan games but they were well thought of, and won a number of Adventure Game Studio awards. Coupled with the star on the rise that is Wadjet Eye, it is not surprising this first look has such promise.