Posted by:

Jenny100
oldmariner's First Look at Demetrios -
04/14/16
02:52 AM
oldmariner's First Look at Demetrios
Planned release : May 2016 Cowcat Games
Platforms : PC/Mac/Linux (PS Vita, PS4, Xbox One ports in consideration)
Distribution : Digital : DRM-Free on developer site, Steam, GOG (if accepted)
Physical : A limited box DVD version is planned, sold directly on developer's site
Supported languages : English, French (possibly Spanish and German at the time of release)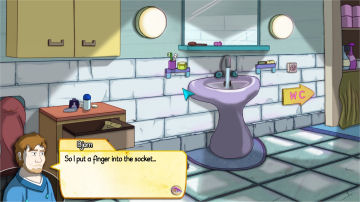 I played a DRM-free preview version of the game. Upon receiving the file for this First Look, I had no idea what to expect other than a synopsis I located via an internet search. Demetrios is a single person effort made by an individual developer. My First Look found the game to be very well constructed, suggesting it may be worth the time to play.
This third person point and click adventure caught my interest from the beginning. What other game offers you the opportunity to stick your finger into a light socket? Again, with no prior knowledge I began exploring. The game puts you in the shoes of Bjorn Thonen, an antique seller who has been robbed. He discovers this one night after coming home drunk. Doing his own investigation with the help of Sandra, his next-door neighbor, he ends up involved in a mysterious and murky affair. These two unlikely heroes team up to discover ancient secrets!
I did not play this abbreviated version of the game in one sitting. I sampled it over several days, perhaps spending an hour or so at each visit. I cannot speak to what the length the completed project will be. The preview file offers many things to interact with, suggestive of a well detailed game. It is purely point and click with inventory based puzzles, offering many locations to visit and things to see. I spent considerable time examining multiple objects.
For some the lack of voice acting in this game may be off-putting. The "speech" is done completely in cartoon bubbles and did not detract from my enjoyment of this game. You can select from several languages to display in the text boxes. The developer added another innovation that is quite useful. In settings you have the ability to adjust the speed of the text. You can lengthen the time the text is displayed on the screen. A very neat touch considering people's reading speed is variable. I appreciated that ability very much.
The graphics are hand drawn cartoonish and well rendered. There is a full range of settings that include Display, Sound and Gameplay. I did not tweak them as the defaults ran well in my Windows 7 64 bit machine. For instance, you may set the display for 1080p or 720p. There is the option for full screen or windowed view. It is doubtful requirements will be a challenge for most systems. I discovered if you do not like the main character's name, Bjorn, you can change it to whatever you want in the Gameplay section of options. It is the first time I have seen an ability to change character names in an adventure game.
The spacebar highlights the hot spots and a hint option is available. You can turn the hints on or off. Yes there are ways to die with an instant reset so you do not have to start over. Plenty of save spots are available. The game has a sense of humor even when it offers a chance to kill off your character. I'm not going to provide any spoilers here. Even the most dense of us will know better than to take some of the challenges offered. That sense of humor extends to comments in the style of Broken Sword. Based on the preview sample Demetrios appears to be a fun adventure with interesting characters, wry humor and some useful adaptations not found in many adventure games.