Visit with Developers - Gey & Silvio Savarese
& An inside look at their new game Ö
Anacapri: The Dream
by Laura MacDonald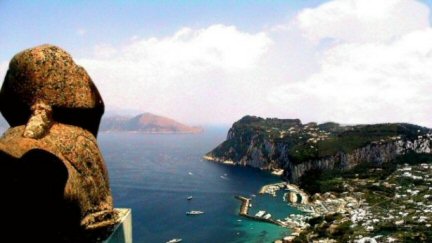 A View from Anacapri
I was lucky enough to get the opportunity to attend both the ECTS and EGN Trade shows that were being held in London, the week of September 1st through the 3rd, 2004. But before all that, there was a scheduled trip to Capri to set off the whole experience for this gamer and press person. While there, I had a first hand look at the site of the Gey & Silvio Savareseís charming game, A Quiet Weekend At Capri and an inside preview of their new game, Anacapri.
So letís back track to the beginning Ö before the shows and all the hoopla. The game development side of my journey to Europe takes us to the sunny Isle of Capri. It wonít be hard for you to know what it is like. All you have to do is play ďA Quiet Weekend At CapriĒ. On a side note, I will tell you the pictures barely do the island any real justice. It is simply the loveliest place, I have ever seen. I am not sure how, but the seas along those wind swept shores have the bluest greens, teals and blues I have seen in my life. And I have seen quite a number of different seashores. How a person could live there and NOT do a pictorial based game is hard to fathom. I spent several days meandering around both Anacapri and Capri with the Savarese family. It was so very strange and wonderful to enter the Piazza so familiar to those who played game one and then wander those narrow meandering streets for real. We traipsed along most of the main pathways of the game and it was the oddest feeling I can recall. It was a pleasure to see the game come to life and even meet a few of the in-game personalities in and about town. But, no time to waste as the Savareses had a new game to get finished. So it was off to work. For the next few days I tagged along, as Silvio and Gey worked on different sections of their new game project, Anacapri.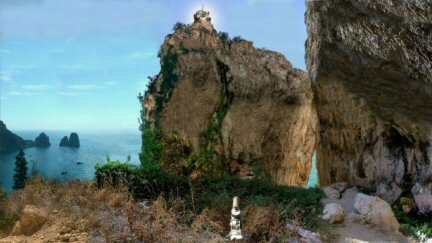 Talking Stones
The first step was a boat trip around the island as Gey recorded various sound effects for the game. We motored through towering rock formations that dot the azure waters around Capri as we made our way around the island and its rugged cliffs.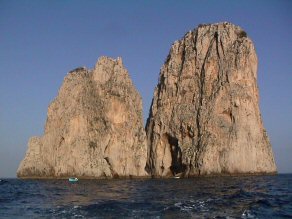 Seas of Capri
Then it was a visit to the Green Grotto and a peek at the famous Blue Grotto. I was surprised to learn there are any number of caves, hollows and grottos in these waters. Of course no sound recording expedition would be complete without a sudden stop to grab some shots of wild goats clambering up a sheer cliff face. I will be very interested to see where these critters get placed within the game. *smile *
The next day it was off in a sort of large tram/cable car up to Anacapri. For a lengthy time in the islandís history, the only way of getting from one side of the island to the other was a narrow, steep and twisting road up through the elevations. If the citizens of the two sides of the island got testy with one another, well they just closed the gate on the road. Today of course, such feuds are a thing of the past and there are a number of ways to get to one side from the other. So off we went to explore. Which is of course the focal point of their new game. We got to the main center of town and immediately went in a chair lift to the highest point on the island. I donít want to give away too many surprises this early in the games development Ė but I will say that this chair ride will be in the game. It also presents some very intriguing puzzling opportunities and story hints from a visually unique perspective *wink *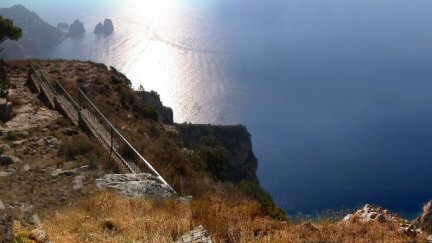 Up the Mountain
Ahhh, an inspiring 12-minute ride up the mountain later, we arrive. After being tossed off our chair lifts by burly attendants, (they donít stop the chairs as they revolve around the stop off point, so you really have to get up and out pretty fast!) We made out way up some stairs to an old stone building and former resort. Again, I cannot tell you specifically about this place, as it too will play a pivotal part in the game. But, I did have the fun experience of being involved in a puzzle layout and set up, as Silvio took a series of pictures all around the place. One new feature of the game will be a 180 panoramic view in specific places. This will give a great perspective of many of the beautiful sights. It also will minimize any feeling of stiffness, as you negotiate your way through some of the environmental based challenges in the game. We were pretty busy figuring out the exact spots for these viewpoints and perspectives, as Silvio snapped away. Actually, Silvio snapped the pictures Ė I jumped this way and that trying to stay out of camera range. It was fun climbing out on a roof to check out one vantage point and also telling the curious that we were getting pictures for a game in production. But Anacapri visitors and citizens are a fairly blasť lot, so they just nodded as if to say ďbut of courseĒ and ambled on. Fame is so fleeting in this business, * laugh*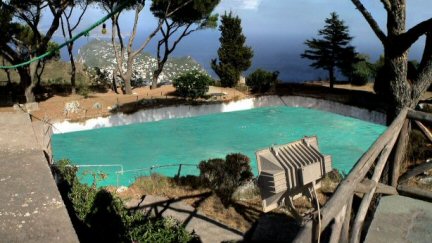 A Fresh Puzzle
Finally, the camera was full and the last chairs were winding their way back down the mountain since the winds had picked up. Yes, it was time to leave. I will have long held memories of that place and the chair ride up and down the slopes of the mountain. Breathtaking. But, letís move on. Why? Because, its time to tell you all about the enhancements in the new game build. Oh and reveal a few teasers, as well. Heh heh.
Get ready to be wowed. If you loved the scenery in Weekend at Capri, well you ainít seen nuthin yet. I am actually somewhat surprised that this game is only their 2nd. I have never seen such amazing views, water, rock formations and flowers. Oh, the flowers here are beyond belief. This place is also one vast interlocking garden. There is not one scrap of dirt or place where something isnít growing. Anacapri is perfectly built for a slide show based game. In fact, you will be so busy soaking up the scenery; you may very well forget to play the game itself.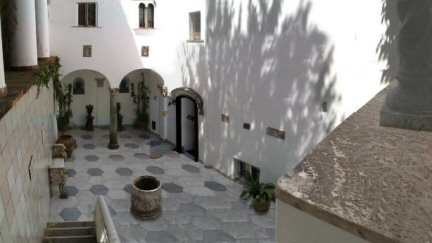 There are some well thought out improvements in this newest project compared to the first game. The game will be in full screen mode this time around. No down sized window. The interface will appear or disappear with but a mouse click. The panoramic moments will also feature a versatile interface. You can pan slowly or quickly at your option and again with the click of your mouse key. And even the mouse is at its most simplistic. You will never need more than your left mouse button in this game. Not that the game will feel stilted or slow moving. It is always a pleasure to see developers take what they learned from their first game to heart and really grow and expand creatively. I think this is just one of many exciting works we will see from The Savareses.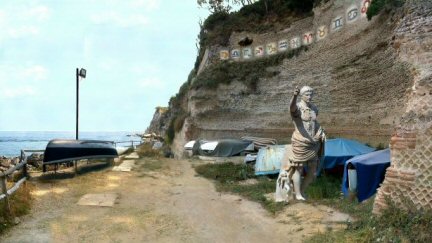 A Roman Challenge
Well, that leaves us to some fun teasers. There will be assorted imbedded animations that will surprise; you will travel back and forth between reality, your dreams and across time. Mythos will abound as you try to unravel the new mystery of Anacapri. Hmmm might even spot a mermaid or was that a siren? No way to know for sure until you find your way up that mountain and down into those azure seas and have your own adventure in Anacapri.

So what about EGN and ECTS? Well that is coming up next Ė no worries. Tons of news from there. But letís pause this journal here and just bask in the warmth of the Capri sun and listen to the waves come in along the shoreline. Ahhhh, I could stay here for a long long time.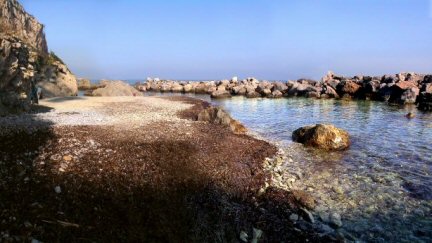 copyright © 2004 GameBoomers
Background: Blue Grotto