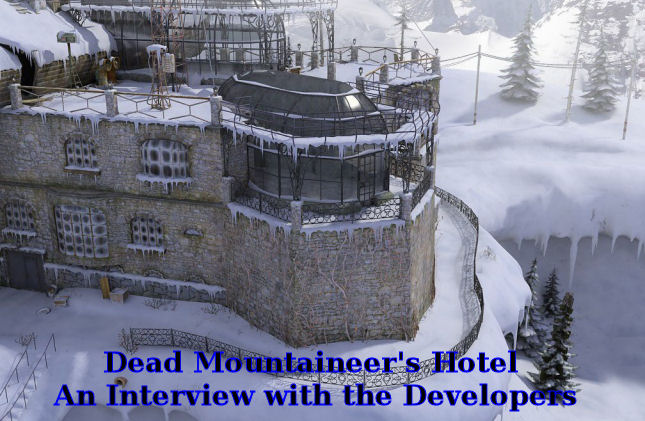 by Becky Waxman
For the last several months we've been tantalized by screenshots from a game with an unusual name, based in a gorgeous Alpine hotel. A project of Russian developers Electronic Paradise, Dead Mountaineer's Hotel starts out as a mystery adventure, but that is only the beginning....
How did you become interested in creating adventure games? Have you developed other games, or is this your first?
The game developer, Electronic Paradise, has been developing adventure titles for quite a long time already. Among our developments there are a number of childrenís titles (Fantastic Village and the Wizard of Oz series). Thus, we have accumulated a good deal of experience to try and apply our efforts on a more serious level.
Dead Mountaineer's Hotel is based on a novel by Boris and Arkady Strugatsky. What was it about the novel that made you think it would translate well into an interactive medium? Did the novel have universal themes that you thought would appeal to everyone? Can you tell us a little bit about the plot?
Dead Mountaineerís Hotel is a dramatic work. While unfolding the storyline we introduce almost a dozen new characters. Their interaction encourages a player to plunge into an exciting investigation with all kinds of inter-linkages.
Besides, the novel that the game storyline is based on is an adventurous detective story. Since a detective story is concerned, of course the cornerstone of our adventure is a crime. Thatís why a big bundle of all the game twists and key decisions relate to the discovery of a body and forthcoming investigations. That is the gamerís role during this tragedy and his eventual deeds (witnessesí examination, search for evidence and other criminal procedures performed) mould the game situation and lead to a corresponding story ending.
What is the interface like? Is the game in first or third person perspective? Point and click?
Itís a third-person game. The interface is a classical adventurous one. Mouse-targeting and clicking will result in various impacts.
What kinds of puzzles and challenges can we expect?
Well, itís well known that itís quite hard to think of something brand new, especially if youíre limited with an already classical genre that involves intense scrutiny of all the detail. All the quest fans have already solved a thousand and one inventory puzzles and spent a crazy amount of hours on the Myst-like teasers. Well, we wonít make an exceptionJ. We are planning to offer a gamer several inventory puzzles and some twists Ė however weíll do that in our own way. The game is based on an outstanding literary work, so some of the puzzles will be scattered around within the dialogues of the characters, which means that we can even get our solutions from them.
I understand that Dead Mountaineer's Hotel unfolds in real time. How exactly does this work?
While playing, you have a hotel building at your disposal. You can move around it without any restrictions. Youíll come across hotel guests who also change their location in relation to yours, and you can communicate with them.
The screenshots show incredibly detailed hotel interiors and several snowy exterior environments. In what way is the graphical detail important to the gaming experience? How expansive are the wintry surroundings, and how important are they to the plot or gameplay?
The main place the game takes place in is the hotel, as described in the book. Its interiors are, no doubt, important from esthetic and functional standpoints. The snowy mountain surroundings also impact the gameplay -- however their role and, thus, their number is much lower.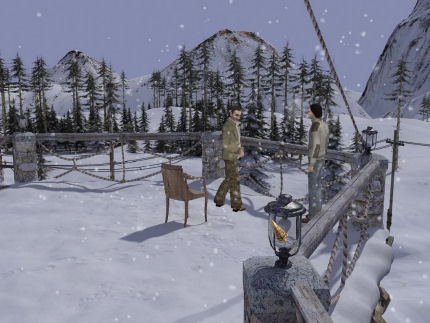 What atmosphere are you trying evoke in the game?
First of all, itís the atmosphere of mystery that we are trying to evoke Ė the mystery that is related to the history of the hotel and is augmented by the host and the guests. As the storyline evolves, this mystery is backed up by new twists and even more intriguing detail. Whatís next? Thatís up to a player to decide.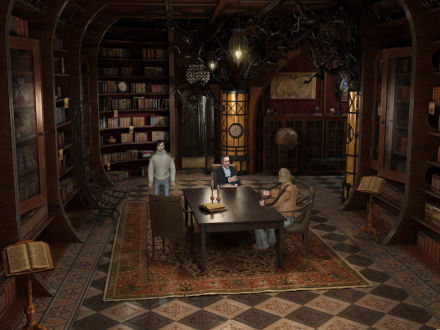 I've heard beautiful mystical music on the game's website. Is most of the music in the game similar, or does it vary in mood?
The key target of the music on the gameís website is to create an appropriate atmosphere. Its informational constituent is quite secondary. Thatís why our priority is to affect what a gamer will feel while wandering around the website sections. A group of professionals will create the very feeling of creeping mystery and anticipation that, hopefully, chased all of us while we were reading the Dead Mountaineerís Hotel novel. As for the technical aspect, we have the means to meet all the boldest expectations -- both yours and ours.
This seems to be a game that encourages the gamer to dig under the surfaces of things. Any hints as to what surprises we are likely to encounter once we start delving below surface appearances?
I guess the primary surprise that awaits all of us is the Dead Mountaineerís Hotel shipping date. After that youíll plunge into a new world where surface appearances are just the tip of an iceberg. But no more hints right now.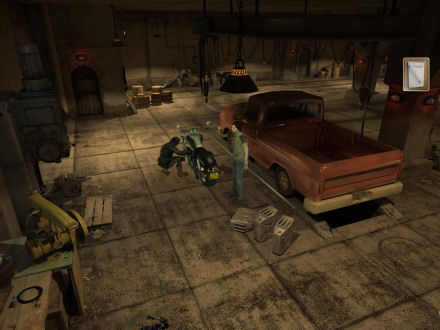 Is there a lot of interaction with other characters in the game? What can you tell us about the characters?
All the game characters will react to the gamerís phrases and evaluate his/her behavior. For example: you were quite rude to one of the hotel guests. Now that he has some information to deliver to you, however, he wonít be too fast to share it with you. Youíll need to bargain for it, search for an alternative source or just handle the situation without it.
What is the likelihood that the game will be released in English? Any approximate date you are aiming for?
Both game versions Ė Russian and English are being currently developed and are supposed to be released almost simultaneously.