INSIDE THE SKULL
There are two important locations within the skull maze. The first is where the dolphin (and exit bubble) are, and the second where the corridor bubbles are. The key to navigating the maze is using the main pod (with six tentacles hanging down from it) as a central reference point.
You need to begin by finding the dolphin. The starting location is randomly generated whenever you enter the skull, so look for the main pod and take the pathway leading towards it. Note that there is more than one pod, but the main pod is higher up than the others and it's above the congested part of the skull. Also, note that the dolphin may initially not be there, but after a few seconds it swims to the area.
Pan upwards to see the main pod and pan to the left (or right) to find the exit bubble.
DOLPHIN
MAIN POD AND EXIT BUBBLE
EXAMPLES OF FINDING THE DOLPHIN LOCATION
Talk to the dolphin, who says 'Seek beyond the corridors. Begin by passing through the first door on your left, then the third door on your right'.
To go to the corridor bubbles take the pathway left of the exit bubble then from there the first pathway to the right. Enter any of the corridor bubbles and follow the dolphin's instructions - go through the first door on your left and then the third door on your right. There's nothing different about this corridor, so re-enter the maze through the door at the end of the hallway.
To get back to the exit bubble (at the dolphin's location) take the pathway to the left of the tree bubble. From there take the second pathway to the left. Use the exit bubble to return to the Skull Chamber.
| | |
| --- | --- |
| CORRIDOR BUBBLES | PATHWAY LEFT OF TREE BUBBLE |
| | |
SKULL CHAMBER
Click the Egyptian embedded in the pillar and then talk to him. If you followed the dolphin's instructions correctly he relates a story about the skull. After this, a large wind chime will be suspended in the air at the end of the Chamber opposite the portal. Click the wind chime to get a crystal remote control.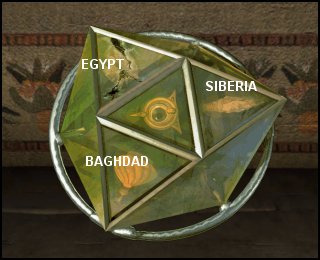 The crystal remote control has buttons to take you to Egypt, Siberia or Baghdad. If the button for Egypt is pressed it cracks, but there is no need to return there. Although it makes no difference which world is visit next, going to Siberia first makes a puzzle later in the game easier to follow.
Click either icon below to go to that section of the walkthrough.