Posted By:

Jenny100
flotsam's First Look at Eyes of Ara -

07/10/16

03:41 AM
flotsam's First Look at
Eyes of Ara
from
100 Stones Interactive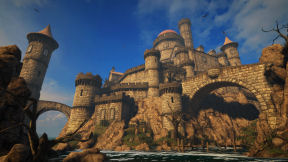 It was with much anticipation that I dove into Eyes of Ara. Looking rather sumptuous, promising a Myst type experience, and hailing from down under, I was looking forward to it.
So three hours in, does it live up to that anticipation? I have to say, so far it is a resounding yes.
I am in an abandoned castle off the Scottish coast, having been sent to shut down a radio signal that suddenly began broadcasting, and which is disrupting communications in the surrounding area. If the sudden transmission from a place supposedly uninhabited is not odd enough, the scraps of paper hinting at ghosts just adds a layer of strange. The darting blue lights just seal the deal.
The castle is every bit as enticing visually as the images had suggested. Lavishly detailed rooms abound, progressively opening up as you solve the puzzles that confront you. While you can't interact with things for the sake of it (no opening and closing cupboards, drawers etc. just because you can) there is plenty to do and search to find the bits and pieces that you need.
This is a solitary adventure. I haven't encountered anyone else yet, and have heard no spoken word, which I confess is how I like it. Sound effects and musical accompaniment provide the aural stimulation, neither of which are overblown or distracting.
Puzzles abound, not brain busting hard, but not a pushover either. Pay attention, look for clues, write things down - if you like these sorts of games you know the drill.
There are objects you can find (coins and photos and other things) that are just there to be found, a kind of treasure hunt if you will. They are kept separate from your inventory items, which are those things you need to find and use to move on. Once used, they remain in place, so the inventory is never cluttered. Make sure you examine and fiddle with items - that can be important in being able to use them.
Other stuff can wait till a full review. I must get back. Suffice to say at this stage that Eyes of Ara is pushing all the right buttons.
Update:
I am now about eight hours in and near as I can tell about two thirds of the way through the game. Don't hold me to that though.
It remains a solitary puzzling piece of piggy heaven.
There are all manner of them, from simple, to not so simple, but never diabolic. I thought some were particularly clever, and me too for solving them. There is subtle subterfuge and misdirection in some, but I haven't thought them unfair. On one occasion I failed to completely miss the answer which was staring me in the face, because I had been drawn into numerous posters and books on the tables and was convinced the answer was in there. Perhaps that was deliberate – or perhaps just my own inclination to overlook the obvious.
It's mouse driven, utilising node to node locomotion, with pretty much 360 degree rotation from those nodes by dragging the screen with your mouse. There are some mechanical quibbles here and there, and I will detail them in the full review, but nothing that would/should prevent you from leaping in feet first if this sort of game is your thing. You won't regret it.