Posted By:

Jenny100
Awkward Steve -- A First Look by flotsam -

07/11/17

10:54 PM
Awkward Steve
a First Look
by flotsam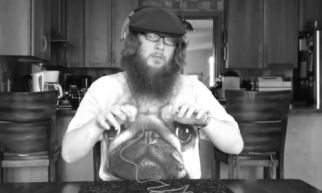 Being an awkward Steve myself, and having hidden in a bathroom or two in my time, I confess to being intrigued by this full motion video self-described objet d'art. It unfortunately didn't deliver on that intrigue.
The duology is in fact two objets - an earlier experience "A Stranger Comes Calling", in which you help Steve psych himself up to answer the door, and the new experience "Don't Turn Your Back on the Ocean", in which Steve has to leave the bathroom to join a party.
I "played" the more recent one first, and died after about four minutes. I got eaten, and apparently didn't even taste that good. It was the result of a particular choice, and choosing "try again" allowed me to try a different choice. I moved on. For a while at least, then died again, having burnt to death by reading the candle rather than anything else. Again I tried again, and shortly after died of embarrassment, my disguise not being up to the mark.
Having had enough, I tried the earlier game. Rather than dying, near as I can tell my anxiety score determined whether I would ever answer the door. About 10 minutes later it was "game" over, having reduced my anxiety to zero through a range of activities, as a result of which the door was opened and the end credits ran.
The whole thing is black and white FMV, and you progress by choosing the options that pop up (hide under table, get in box, open door, join party, etc). Steve is awkwardly interesting, his T-shirt a bit moreso, but not in a compelling way. There is some spoken word, a soundtrack and not much else.
I don't know what this was trying to do. As someone who has grappled at times with the notion of leaving the house, it didn't speak to me. As an adventure game player, it didn't speak to me. As a person intrigued by different experiences, it whispered momentarily, then fell silent.
I wish it had said more.