Posted By:

Jenny100
Outcast: Second Contact -- A First Look by flotsam -

12/28/17

08:18 PM
Outcast: Second Contact
Bigben Interactive
a First Look by flotsam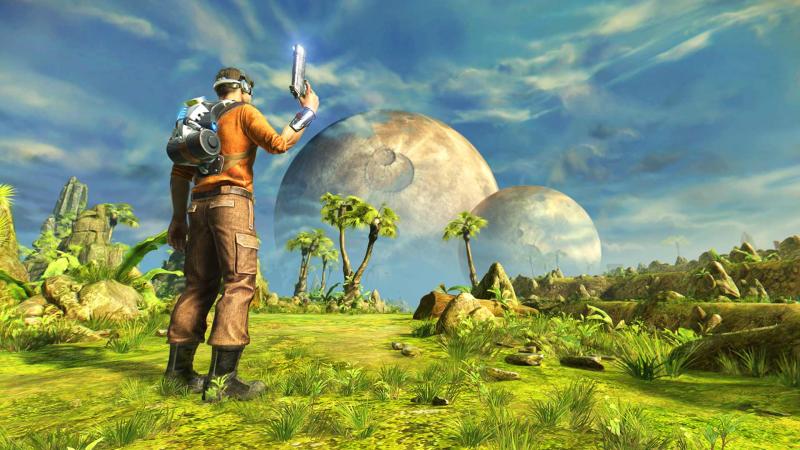 Outcast was one of those games that was truly ahead of its times. A big open world exploration, utilising graphic wizardry to let you go wherever you wanted yet enable it to run on somewhat modest machines. It had strange beings, a language, religion and philosophy, just as rich as James Cameron might have created. I remember it as hours upon hours of non-linear exploration, doing good deeds and vanquishing foes, and I loved it.
Now it is back, a little while ago to be true, but having just obtained the first Mon and moved onto another world, I feel no less love.
I read a review that described this version as a renovation , and I can't improve on that description. Near as I can tell, the bones are exactly the same, including the maps, the world design, the quests, the combat, and the loquacious Talan. The makeover however gives it a graphic vibrancy it never had, and while it still lacks the graphic quality of the newest releases, compared to the original it looks an absolute treat.
Other changes I have noticed are that lexicon has been added into the subtitles should you want to turn it on, which means you won't have to reach for your grammar dictionary whenever a new word is heard, and the expanded map has character labels once you meet them making it a little easier to find people again. Or perhaps I just missed that first time around.
Jenny100 wrote a detailed review of the original, and as this is the same game, you can find out all you need to know by reading that one.
It was far from perfect and still isn't. But if you played and liked the original, you will feel the same about this. If you haven't played, now is the perfect time to give it a go.
Halt, Ulukai!
+_+_+_+_+_+_+_+_+
Note by Jenny100 --
There is one important difference --
The first Outcast game from 1999 had cheat codes, including a god mode for the non-dexterous. Outcast: Second Contact apparently does not have cheat codes.