Posted By:

Jenny100
a First Look at Leisure Suit Larry: Wet Dreams Don't Dry by flotsam -

11/17/18

12:40 AM
Leisure Suit Larry: Wet Dreams Don't Dry
CrazyBunch
a First Look by flotsam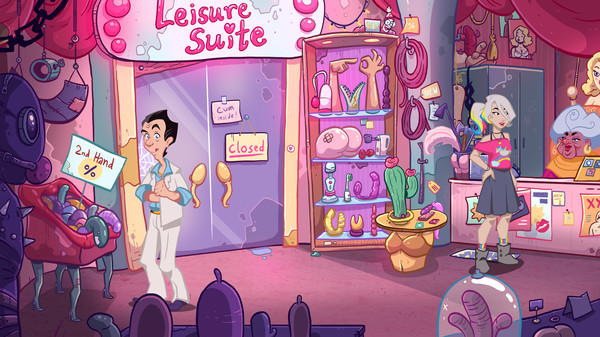 I reviewed the previous Larry incarnation - Magna Cum Laude - a while back and in a different galaxy, and my conclusion was that you should play something, almost anything, else. I therefore entered this resurrection with a little trepidation.
Larry has probably always been a matter of taste. I didn't play any of the originals so had no comparison last time, but research and a bit of dabbling suggests the early ones were a whole lot better than Magna Cum Laude. A product of their time as well.
About 40 minutes in and pushing on will be an exercise in reviewer tenacity.
Larry arises, Blast From The Past like, from a bunker beneath the street. He finds he has been catapulted from his time to the now, and is clueless when it comes to mobile phones, social media, apps and the like. That premise offers the possibility of some interesting interactions, but so far it hasn't been realised.
In short, its focus on obnoxious sexual not-so-innuendo, buildings shaped like penises, humour that is crass rather than witty, and the nature of the tasks to be achieved (e.g. I had to find some used panties to get a shop assistant to help me), is not at all appealing. The poor writing and laughable voice acting does nothing to help lift it.
Perhaps things will improve. However as I am about to use the Timber app to have sex with as many people as possible in order to get my dream date, I doubt it.
It's third person point and click, task based, third person and save it will.