Posted By:

Chief
GIVEAWAY¤¤¤¤Blue Madonna-A Carol Reed Mystery¤¤¤¤GIVEAWAY -

12/18/10

01:58 PM
Giveaway Time Again
GameBoomers will be giving away
5 COPIES
of the game
Blue Madonna-A Carol Reed Mystery
, courtesy of
MDNA Games.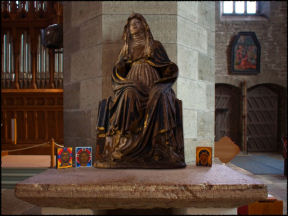 To get some excellent information on the game, have a look at the
Blue Madonna
site where you will find a demo, many screenshots and the game requirements.
NOTE
: this game will be released in January 2011 and therefore shipped to the winners after the official release.
To enter the drawing, please post here first to say you are in and then send me an E-Mail using my e-mail address in my profile.
Please no PMs.
Put the word "Madonna" in the e-mail subject line and include your GameBoomers MEMBER name in the body of the mail.
Entries must be submitted by Wednesday, the 22nd December 2010 , at 9:00PM Eastern Standard Time.
The winners will be announced on Thursday, the 23rd December 2010.

Only one entry per registered member.
All are WELCOME to enter.
Thanks to Carla for contacting MDNA and for sending the game to the winners

A BIG THANKS to MDNA Games for making this Giveaway possible.

Chief