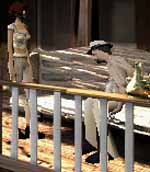 In Marcuria first go to the temple. There is none there and the gates are shut.
Go to the City Green and talk to Abnaxos. He gives you the Venar-stone. Now you have them all.

From him, go visit Brian Westhouse.

After that hurry to the Enclave and talk to Minstrum Yerin.
You'll learn that Tobias is dead, murdered, and almost everybody has left Marcuria.
Look at the rusty wheel by the pool in the library, than ask Yerin about it.

Go outside to the entrance of the enclave above the library. Look at the pattern of the floor. Especially at the circular openings.
Now you can put the stones on the circles. If the stone blinks the place is the right one. Click on the stone to put it there. When all stones are placed nothing happens.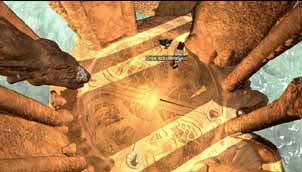 Look at the head of the dragon. His mouth is dirty he cannot produce the fire needed to melt the stone.
Blow your flute and summon Crow. Ask him to help you clean up the dragon mouth. He is not very pleased.
Pick him up and put him on the dragon's head. He cleans the head under protest and now the dragon can spit fire.
The stones are merged into a STONE DISK. The floor opens and the stone falls down in the pool underneath.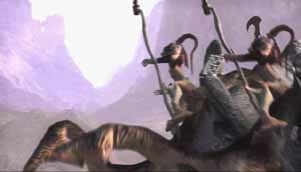 Go downstairs and talk to Minstrum Yerin. Ask him to unlock the wheel.
Go to the wheel and turn it, to dry the pool. Go to the pool and take the STONE DISK.
Leave the enclave.
Go and take a look at the City Gate. You see an army advancing.
After some trying you succeed in opening a Shift and can flee back into Stark.