All images are property of Warner Bros™

Written and illustrated by Dr. Hugh
Website conversion and layout by Bert Jamin





---
Click on one of these images to go to that Level
Or click on the image at the bottom of this page to go to the next Level
---
© November 2005 Bert Jamin (www.gamesover.com)
This walkthrough may not be sold and may not be used for any commercial purposes. Neither is it permitted to publish this walkthrough in any way without the written permission of the author Dr. Hugh (samsi@skynet.be). Feel free to place this walkthrough on your web site or on your home page, on condition that no part of this walkthrough is changed and that the name of the author (Dr. Hugh), the URL of the owner of this site (www.gamesover.com) and his E-mail address (gamesover@planet.nl) are mentioned unchanged. For the most up to date walkthroughs always visit www.gamesover.com. If you have any suggestions to improve this walkthrough, let me know by sending me an email: gamesover@planet.nl.
---
Introduction
A completely new style of Game
Compared with the previous three Harry Potter games The Goblet of Fire comes with a unique new game play. The installation is now by a DVD and requires a powerful computer, especially due to the superb graphics qualities.
A brand new feature is introduced here: the game can be played with 1-3 players! The first player can be chosen from a menu at the beginning of each Level: play like Harry, Hermione or Ron...
New players can choose to be any of the remaining two characters. For second and third players, you will need DirectX 9.0c compatible input devices (see further below). After starting a new game the main Menu will appear.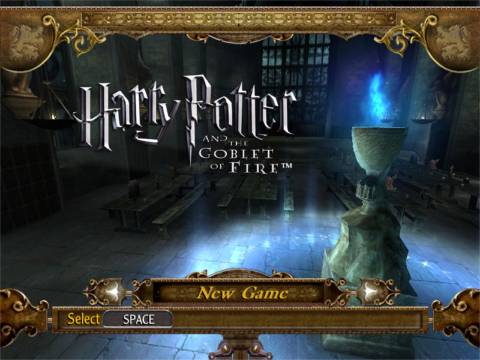 Navigate the Menu options with the horizontal Arrow Keys
One of the options in the Menu offers you a choice of subtitles and I would strongly recommend to allow them. Remember there is high British English spoken throughout the game!
Default Controls
Select your player now – and of course I've chosen Harry!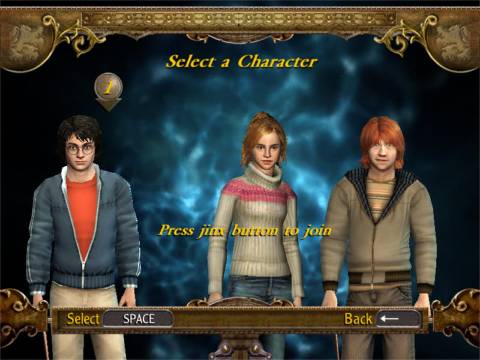 Your choice of player: Harry, Hermione or Ron
Just like with the previous Harry Potter games, controls are kept simple and minimal:
Arrow Keys >>> Character movement/navigate Menus
C >>> Charm/accelerate in Triwizard Levels
X >>> Jinx
Z >>> Accio
S >>> Magicus Extremos
ESC >>> bring up Pause Menu/cancel Cut Scenes
Space/Return >>> Select/Confirm (or view and buy in the Folio Universitas)
Backspace >>> back/cancel
I >>> Info on Level Select
C >>> Collector's Cards on Level Select
PAGE UP/DOWN >>> move through Card sets in Folio Universitas
Minimum PC configuration
Requirements for playing PC version
Windows 2000 or XP
1.2GHz Pentium III or comparable processor
256MB RAM
A video card with at least 32MB of video memory with DirectX 9.0c (or higher) compatible drivers, supporting one of the following chipsets: Nvidia GeForce (or greater) or ATI Radeon 7500 (or greater)
At least 1.1GB of available hard disk space
DirectX 9.0c (or higher) installed
A DirectX 9.0c (or higher) compliant sound card
Multiple Game Play
Harry Potter and the Goblet of Fire supports any DirectX 9.0c compatible input device (such as Keyboards and Gamepads). To play a two or three player game you will need to have such a device for each extra player, plugged into a USB port of your PC.
To configure a device, open Start>Programs>Electronic Arts>Harry Potter and the Goblet of Fire and select Controller Configuration. The Controller Configuration Program should detect all input devices connected before the program was launched.
Select the input device you wish to configure, click on Start Configuration and follow the on screen instructions. When you have completed your configuration, click on Save Configuration to save your settings, or on Quit to restart the process.
Saved Games
You will have to select a Game Slot and will be asked if you want to save your games automatically or not.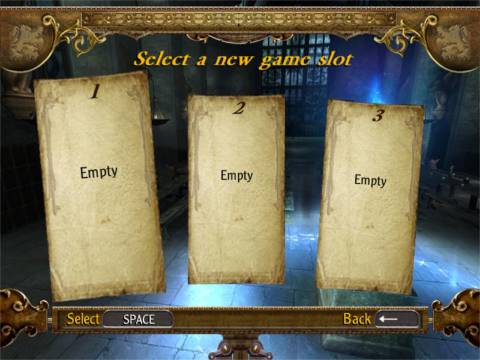 Select a Game Slot

Select automatic savings which is one of the common "problems" with the Harry Potter games since they are constantly overwritten. There is only one save file of about 30 Kb which is found in one of two folders (depending on the version of the game you are using).

DVD version:


C:\Documents and Settings\<your user name>\Local Settings\Application Data\Electronic Arts\Harry Potter and the Goblet of Fire\HPGOF.

2 CD version:

C:\Documents and Settings\All Users\Application Data\Electronic Arts\Harry Potter and the Goblet of Fire\HPGOF.

It is a good idea to make a separate folder containing all your save files of the Sublevels. Copy them there and in case you want to replay a Level or Sublevel replace the file in the Save folder.

The Levels

After the Tutorial stage there are 10 Levels in this game that can be accessed by the Level Selector. You will obtain access to this Level Selector after finishing the Tutorial Level – say Level 0. Then your first saved game will be stored and when loading again from a saved game you will get the Level Selector where Level 1 will be opened.

However, a next Level will be opened after finishing the previous Level. Once a Level has been finished, you can replay that Level at any time later on.

So all Levels are not accessible for the time being:
Defense Against the Dark Arts

Moody's Challenges

Hogwarts Exterior

Forbidden Forest

Triwizard Task 1: the Dragon

Prefect's Bathroom

Herbology

Triwizard Task 2: the Lake

Triwizard Task 3: the Maze

Voldemort
Team
International Team workers:
Dr. Hugh, Schilde-Antwerp, Belgium:
Walkthrough author (English and Dutch languages) with Screenshots – Professor of Maths and Game enthusiast
Danny Kriestanto, Yogyakarta , Indonesia :
Suggestions and hints by preliminary notes – Master's degree of Computer Science and extremely fast player
Diane Eaton, Phnom Penh , Cambodia :
English Language corrections - US Citizen, English Teacher and co-Director of the International School of Cambodia, severe Game addiction
Bert Jamin, Zoetermeer, The Netherlands:
Owner and administrator of the Gamesover Website doing this fine traditional Layout –and Supervisor at the Dutch Ministry of Internal Affairs
Please note that all your comments and suggestions were most welcome! We're not perfect, but are trying to make a really good walkthrough for the fun of it and all pro bono.
The Beginning...
By night an old mansion is seen under the light of a full moon. The villagers of Little Hangleton still called it "the Riddle House". Half a century ago, a servant had found all three Riddles dead. A suspicious conversation is taking place there:
Perhaps if we were to do it without the boy, my Lord? No. Harry Potter is as good as mine. It is decided...
Would this perhaps sound like the voice of Lord Voldemort...?
Harry Potter and his friends, Ron Weasley and Hermione Granger, traveled by Portkey to the Quidditch World Cup Final, where they saw Ireland defeat Bulgaria . Later that night, a gang of Death Eaters – followers of Lord Voldemort – rampaged across the campsite. Arthur Weasley sent Harry, Ron and Hermione back to the Portkey.
And thus the new adventure starts … our three friends have to find a way out of the campsite, which is under fire and attacked by monsters. In this short Tutorial Level you will learn how to control your Character, defeat enemies with Charm and Jinx, and bundle your forces where necessary. You will pick up Bertie Bott's Beans and Chocolate Frogs. All is clearly explained - just follow the instructions and find your way to the Portkey.
Then you will get a cut scene showing Hogwarts Castle and Prof. Dumbledore holding a speech introducing your new Teacher of Defense Against the Dark Arts class. Brrr... another creepy character! Since you have upgraded to a Novice now prepare for the real game.
And next...
Up to Level 1: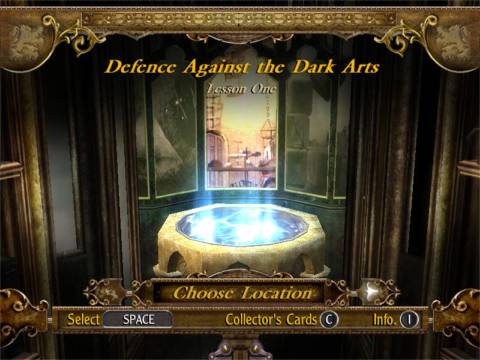 The Level Selector has opened Level 1
Wishing you thrilling fun with... Harry Potter and the Goblet of Fire!!!
Walkthrough started on November 12, 2005
Up to Level 1: Defence Against the Dark Arts, Lesson 1...