All images are property of Warner Brosô



Walkthrough & Screenshots by Dr. Hugh

Web Art & Links by Bert Jamin






---
Click on one of these images to go to that Level
Or click on the link at the bottom of this page to go to the next level. Click on one of the links below to go directly to that level.
---
© November 2010 Bert Jamin (www.gamesover.com)
This walkthrough, written and illustrated by Dr. Hugh, may not be sold and may not be used for any commercial purposes. Neither is it permitted to publish this walkthrough in any way without the written permission of the author Dr. Hugh. Feel free to place this walkthrough on your web site or on your home page, on condition that no part of this walkthrough is changed and that the name of the author (Dr. Hugh), the URL of the owner of this site (www.gamesover.com) and his E-mail address (gamesover@planet.nl) are mentioned unchanged. For the most up to date walkthroughs always visit www.gamesover.com. If you have any suggestions to improve this walkthrough, let me know by sending me an email: gamesover@planet.nl.
---
Level 20
THE QUARRY
20.1 Snatchers and Death Eaters are searching everywhere for Undesirable #1 Ė Harry Potter. Survive this ambush!

Again, this side Game is merely a shooter, but this time you will need your other Potions too: Garrotting Gas and Exploding Potion (although they donít work well with the Gamepad). You should normally have a full load of them by now. Impedimenta works best on the foes if you take them one by one.

WARNING: There are no Savegames in this Level.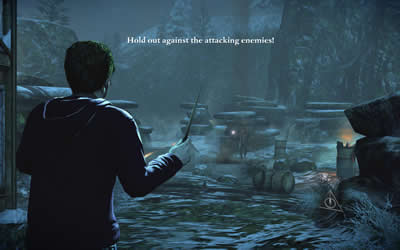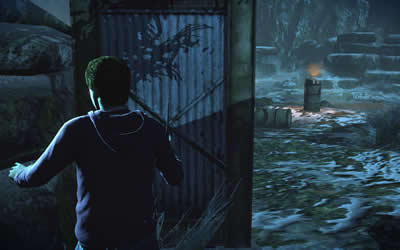 Immediately hide behind the tin shack and select Impedimenta


From there shoot some of the everlasting appearing Snatchers and Death Eaters and then try to make your way between the torches leading to a hiding place with a chest.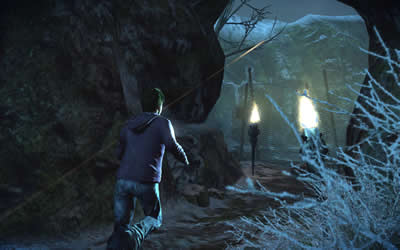 Run to the hiding place with the chest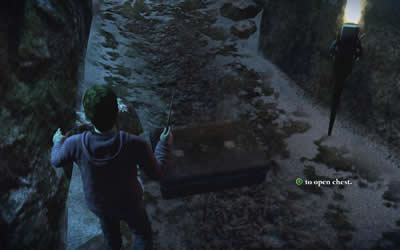 Press A to open the chest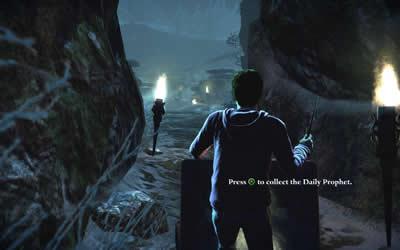 Press A to collect The Daily Prophet


From here you can take all remaining Snatchers. Immediately hide left or right Ė there isnít much place though. Come out and kill them one by one. But always take your time to heal.

The Level is Completed when all are dead (about 50 of them).