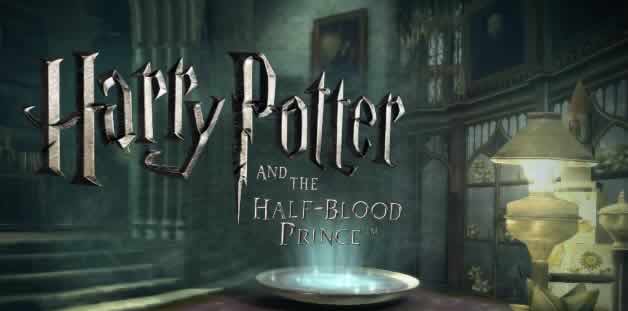 All images are property of Warner Brosô




Written and Illustrated by Dr. Hugh
Layout and Website by Bert Jamin

---
Click on one of these images to go to that Level
Or click on the image at the bottom of this page to go to the next Level
---
© July 2009 Bert Jamin (www.gamesover.com)
This walkthrough, written and illustrated by Dr. Hugh, may not be sold and may not be used for any commercial purposes. Neither is it permitted to publish this walkthrough in any way without the written permission of the author Dr. Hugh. Feel free to place this walkthrough on your web site or on your home page, on condition that no part of this walkthrough is changed and that the name of the author (Dr. Hugh), the URL of the owner of this site (www.gamesover.com) and his E-mail address (gamesover@planet.nl) are mentioned unchanged. For the most up to date walkthroughs always visit www.gamesover.com. If you have any suggestions to improve this walkthrough, let me know by sending me an email: gamesover@planet.nl.
---
Harry Potter and the Half-Blood Prince
Level 11
POTIONS CLUB REVISITED
[11.1] Harry meets a student in one of the Greenhouses:
Hi, is this Potions Club?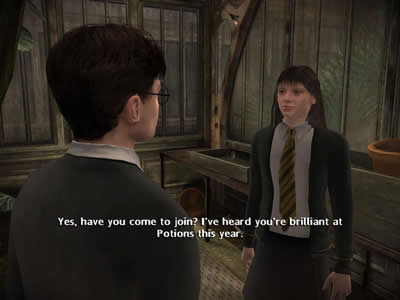 Yes, you have come to join? Iíve heard youíre brilliant at Potions this year.
Harry: Thanks, but I just want to make a Shrinking Solution; Iíve got to get back to meet someone.
Student: Sorry, if you want to use our equipment youíll have to join the Potions Club. All you have to do is choose the Entry Challenge on the notice board over there: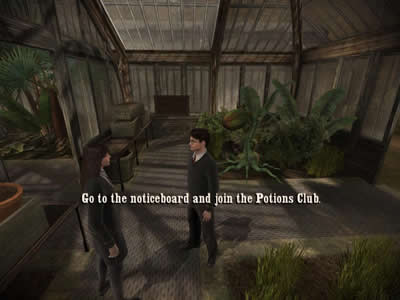 Go to the notice board and join the Potions Club
Press green to open the notice board.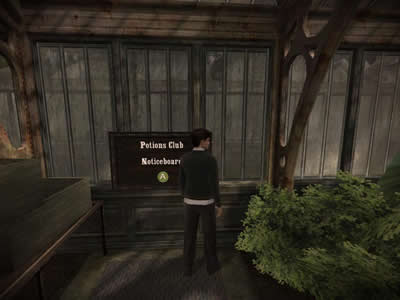 Press green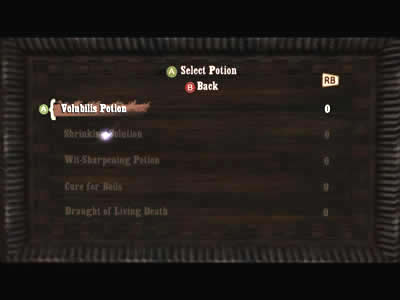 Your choice of Potions
You will have to prepare the Volubilis Potion first.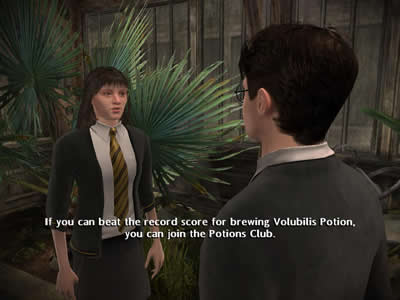 You canít select any other Potion but Volubilis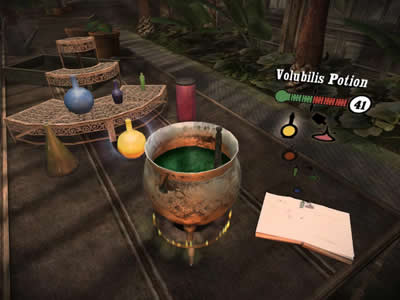 If you can beat the record score for brewing Volubilis Potion, you can join the Potions Club.
Volubilis Potion is one of my favorites! Some people just use it to play tricks on others to change their voices... which seems a waste of a good Potion to me.
Follow the instructions like last time. If a color is on top heat the cauldron by turning RAS until the Potion gets the required color. Then a flask will be shown on top. Take it, and pour in the liquid until the Potion gets the color that is needed for the next step. When you succeed the time meter will increase. When you fail the time meter will drop. If you reach zero you will have to restart.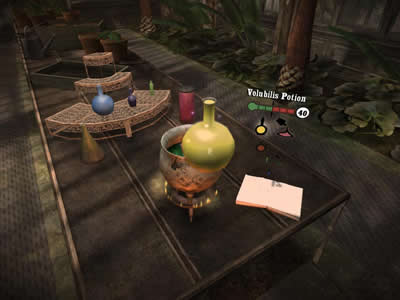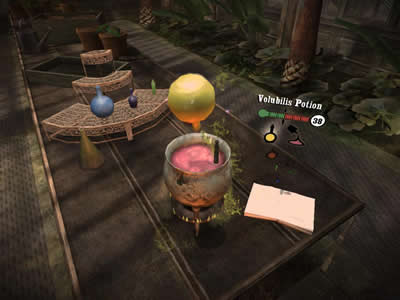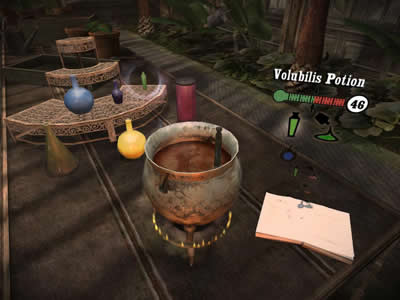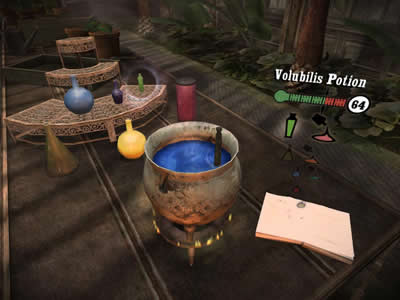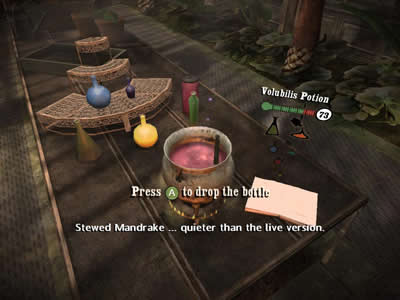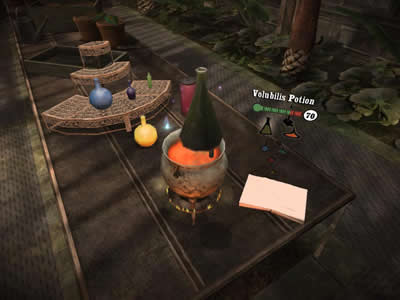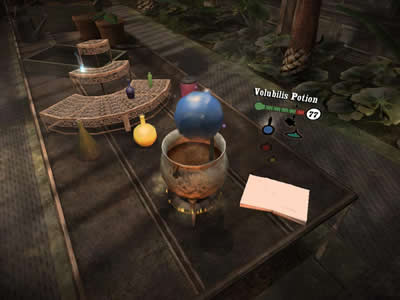 Different stages to brew the Volubilis Potion
When you have succeeded your score will be shown: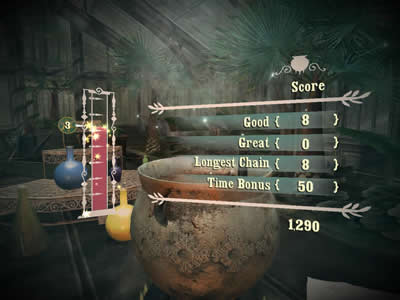 My score
Then youíll get the Badges (mine were not that great Ė I hope yours are better).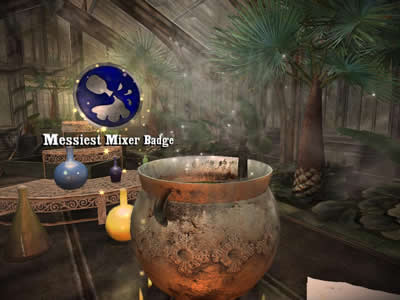 Messiest Mixer Badge (not a great reward)

Potions Club Member Badge (somewhat better)
Mixing Potions is not my Cup of Tea, but here is that student again:
Wow, you are good! No one else has brewed that Volubilis that well before. You can definitely join the Potions Club!
[NOTE: I just donít believe that crap. I was terrible with Volubilis. But now comes the worst part]
Harry: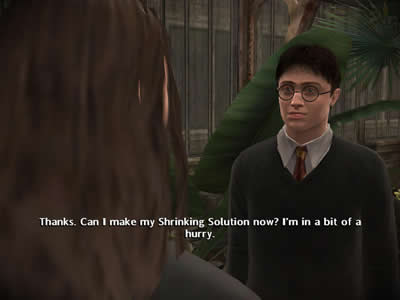 Thanks. Can I Make my Shrinking Solution now? Iím in a bit of a hurry
Brewing the Shrinking Solution is more complicated. Iíll just provide you a sequence of Screenshots.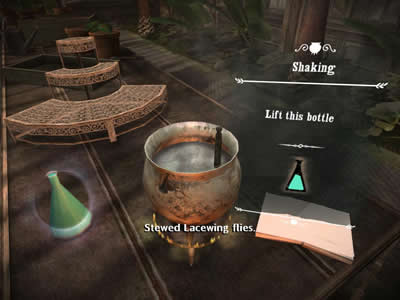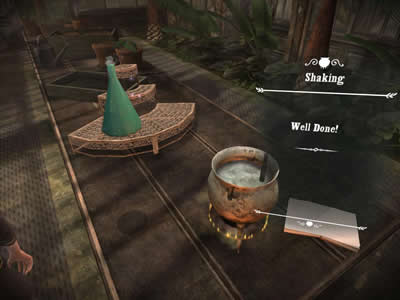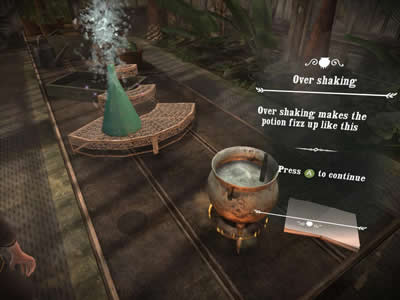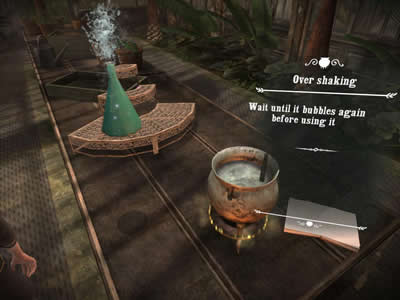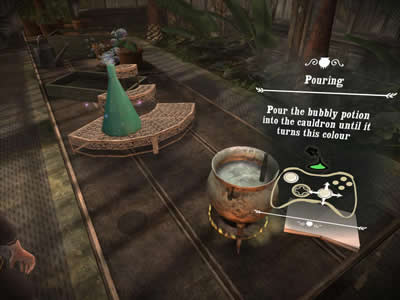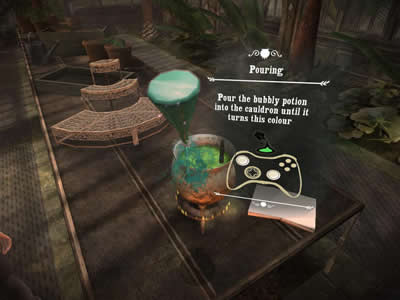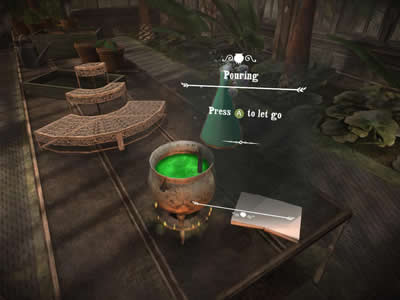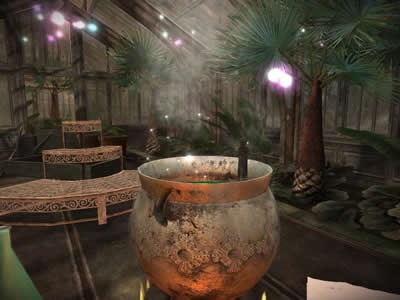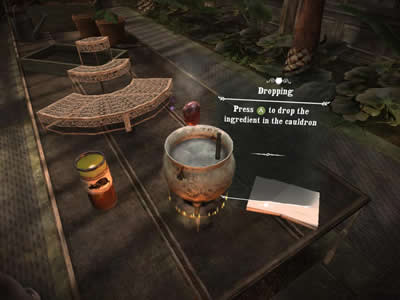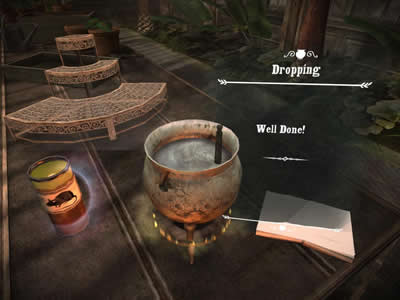 Follow these steps
Now you have to add 5 worms into the Potion.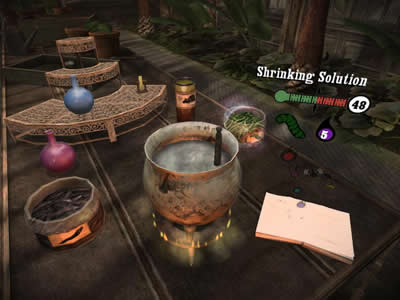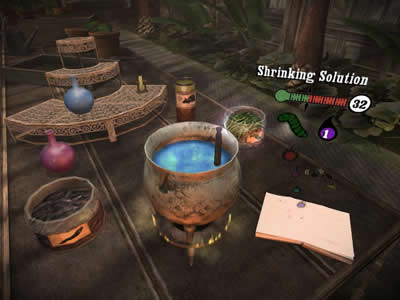 Get 5 worms in
Heat up the cauldron until the potion gets the red color like indicated.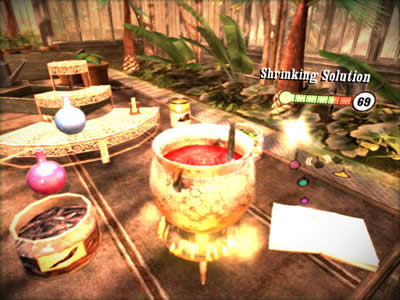 Burn until the liquid gets red
Now lift the purple jar, shake and pour in.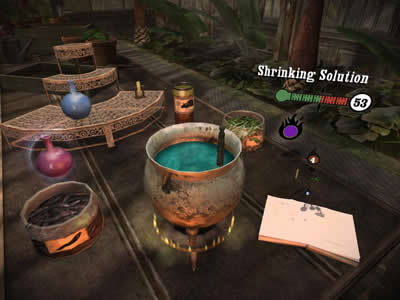 Apply the purple flask
Get four rats into the Potion.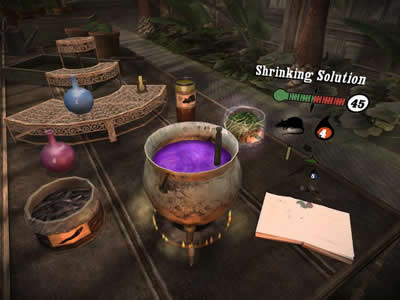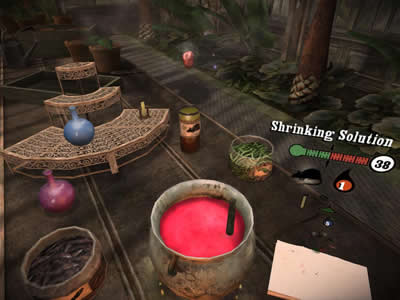 Four rats have to be added
Now take the purple jar, shake well and add.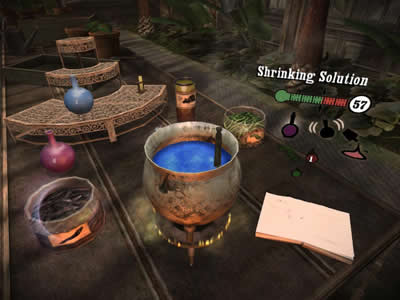 Add the contents of the purple jar, but shake well first
Add worms to the Potion.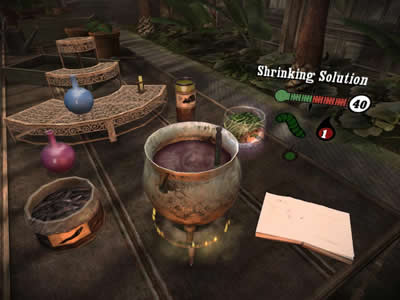 The number of worms is shown
And thatís it. Youíre score is now listed.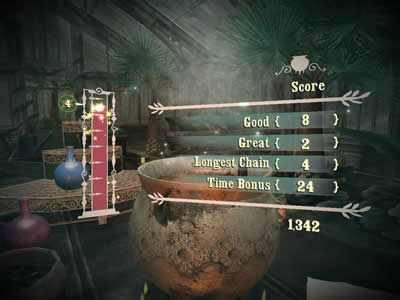 This is your score
Level 12: